Last night, I had the privilege of attending the Philippine launch of the Cisco's Flip Video MinoHD. Cisco, in partnership with SM Cinemas, hosted the launch at SM Megamall Cinema 6. The place was jam-packed, and well attended by bloggers, media, celebrities and your everyday Juan.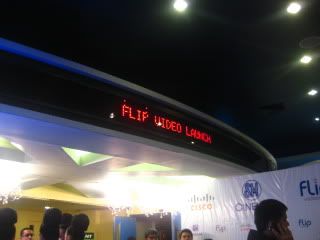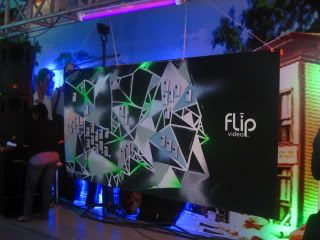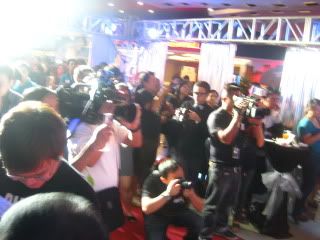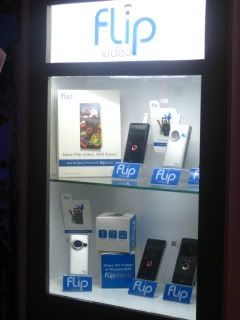 While I'm no stranger to Flip cameras, it was definitely exciting to be part of the crowd who'll be the first to experience the new line that Cisco was launching. I've been blogging since 2003, but I'm fairly new to the events scene, so pardon the uber excited vibe I may be exuding.
Cisco launched three new cameras during this event: The Flip MinoHD 1HR, Flip MinoHD 2HR and the UltraHD. These cameras are small, stylish and easy to operate, standards set by the previous releases of the Flip Video. They're also ready to operate straight out of the box. A no-fuss video camera that takes high resolution footage? Sign me up!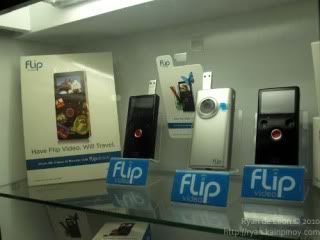 Photo by Ryan
A screening of several short films shot using the Flip Video MinoHD was presented to the guests. Before that, cocktails were served while guests mingled. I had a grand time hanging out with friends
Arpee
and
Ryan
, and meeting new ones as well. It was also a thrill to finally see the faces of people I know only through their blogs. *waves hello*
Among those whose films were shown using the Flip MinoHD were Tessa Prieto-Valdes,
Mitch Dulce
, Dimples Romana, director Topel Lee and blogger
Jayvee Fernandez
.
Probably the much awaited moment of the night was the raffle for the Flip MinoHD. Guests were asked to fill in a raffle stub at the registration tables earlier in the event. I didn't expect to win, but imagine my elation when my name was called. Plurk friend
Fritz Tentativa
also won a camera.
While I haven't really played around much with the camera, in an oddly positive way, there's not much look at. Being simple is the camera's biggest selling point, among others.
You don't have to be technical to use the camera as there are no confusing controls to worry about when you want to shoot.
The camera is small and very lightweight, probably weighs as much as an iPod classic (or even less).
It powers up fairly fast. I can be up and shooting videos in two seconds.
There are no messy and confusing wires to worry about. The Flip Video MinoHD has a built-in USB arm that flips out of the body and attaches easily to any USB port for fast and easy file transfer.
There's a pre-packaged software called FlipShare that's compatible to both PC and Mac, which you can use to organize, edit and share your videos.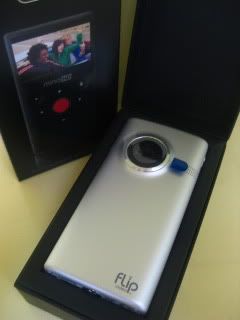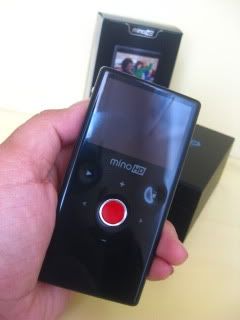 On the downside, battery life seems a tad too short for a camera that can shoot two hour footage. The storage, even for the 8 GB, isn't ideal if you want to shoot long footage, like weddings or other events, especially if you don't have a computer handy to connect to. The fact that the memory isn't expandable may be a problem for some. Also, the USB plug is awkward because it cannot support the camera's weight when it's plugged in but Fritz's suggestion to get those USB extension cables works around this concern well.
Those aside, it shouldn't stop you from getting one. The cameras are very handy and easy to operate. Having a dedicated camera for video now frees up your still camera for what it's originally made for.
The Flip Video MinoHD is available locally in various electronics and gadget stores like Ansons Appliance, Digital Walker, selected outlets of Human (yes, the clothing shop), Power Mac Center, Robinsons Appliance Stores and of course, SM Department Stores and Appliance centers.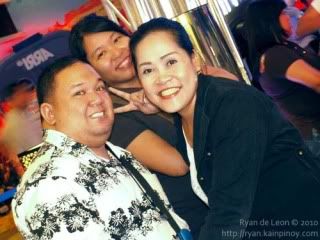 Arpee, me and Jo Bonsol. Photo by Ryan
Thanks to Arpee of Pinoy Life At Large for extending the invite!