Last Sunday, I joined several bloggers on a Manila tour with
Carlos Celdran
, thanks again to the invite extended by
Arpee
. While many have already taken a tour with Carlos before, this was a special trip.
The tour centers around the photographs of Teodulo Protomartir, who is considered as the Father of Philippine photography and credited as the man who brought the 35 mm format to the country. A series of photographs from his collection of post-war Manila. I first heard about this man and these photographs
through Rain
, who is a film photographer enthusiast. The tour was based on these pictures, where Carlos took us around Manila, showing us the pictures of old places and buildings, and what they look like now.
It was truly an educational tour. Even though those buildings and places were familiar to me, having seen them for as long as I can remember, hearing the history and learning what the buildings have gone through makes it all the more awe-inspiring.
What made the tour more fun was the use of the
Samsung Galaxy Tab
. This device is a very portable tablet that has a 7" TFT-LCD display and weighs only 380g. While we were on the bus heading towards Manila, Carlos plugged his Tab to the onboard TV, loaded a PowerPoint presentation and proceeded give us a quick history lesson in Philippine history, specifically, Manila.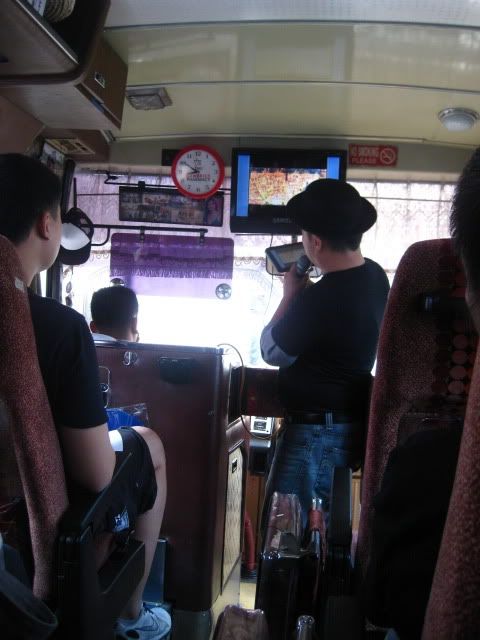 Carlos loads up the PowerPoint presentation on the TV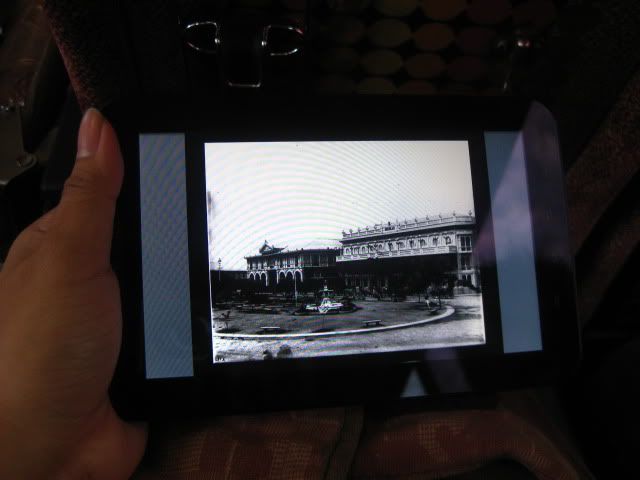 I look at it through the Tab that I have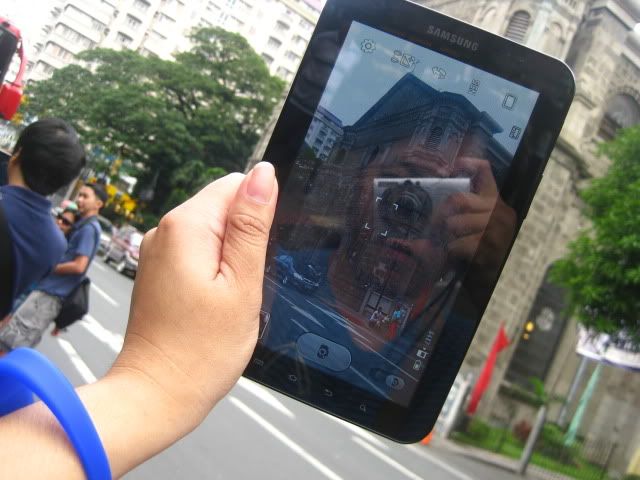 Taking a picture of the Tab while taking a picture of the Church.
We just didn't marvel at the coolness of the Galaxy Tab while Carlos did his spiel. Samsung was generous to let us get a feel of it ourselves. They handed out several units so while we were walking around Manila, we could update our Facebook status, take pictures, shoot videos and even do Google searches for information on the places we're seeing.
I had a marvelous time playing around the Samsung Galaxy Tab. I was able to hold the Tab the most among our little group (
Fritz
, Chris and
Jane
), and while walking, I managed to take pictures and update my social networking accounts (Plurk, Facebook and Twitter) letting the world know that, hey, I'm using a Samsung Galaxy Tab! Carlos even showed me some cool features with the Tab that I couldn't figure out how to do in the first place. Awesome.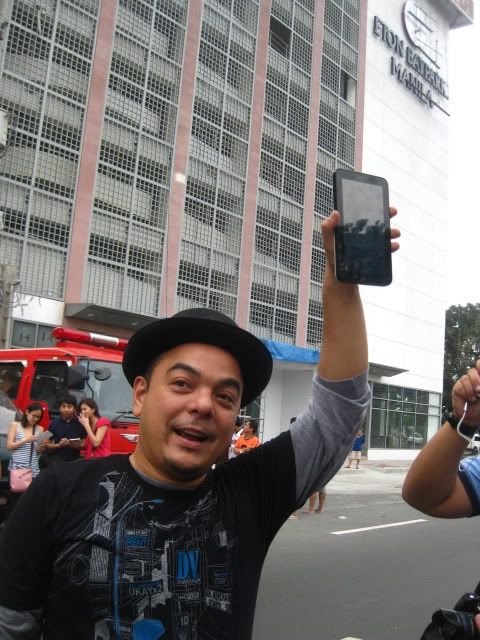 Showing us what the building looked like before.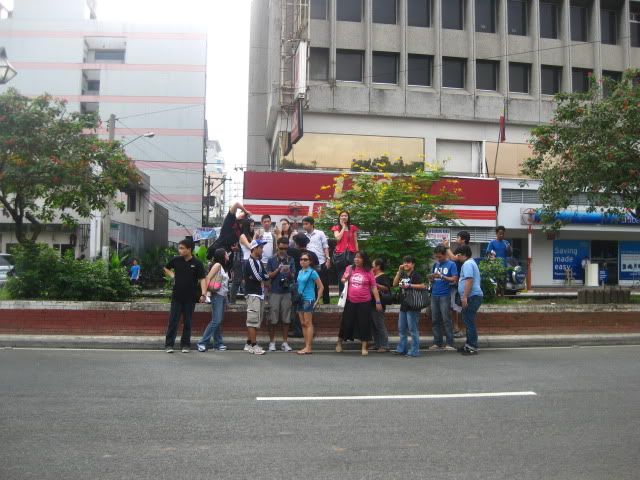 Lecture in the middle of the street.
Carlos is also a fun and engaging guide. While walking, he was stopped by several people, most of whom were your everyday Juans. Street kids would point and say "Si Damaso!" Students and tourists would ask to have their pictures with him, while one taxi driver even leaned out of his car to say hello. "I know I've made it when taxi drivers would wave at me," Carlos jokingly tells us.
He also crosses the street with no care, making all of us scramble at his wake (nightmare for someone like me who is scared of crossing the street). In Luneta Park, security stopped him and asked what he was going to do at the park. Maybe they think he'll create a scene? Hurray for a student ID that saved us.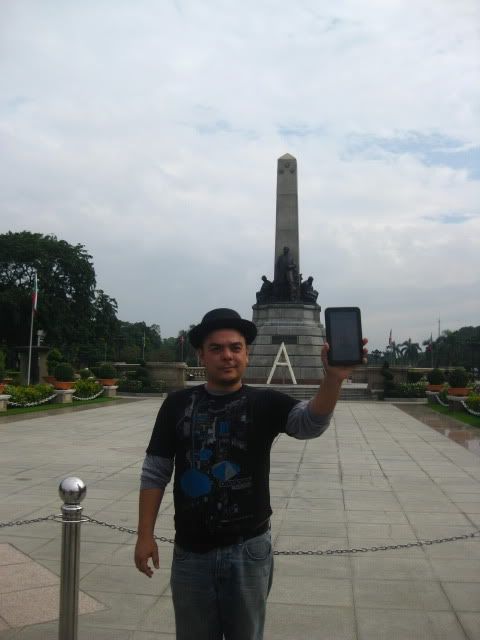 At the Rizal monument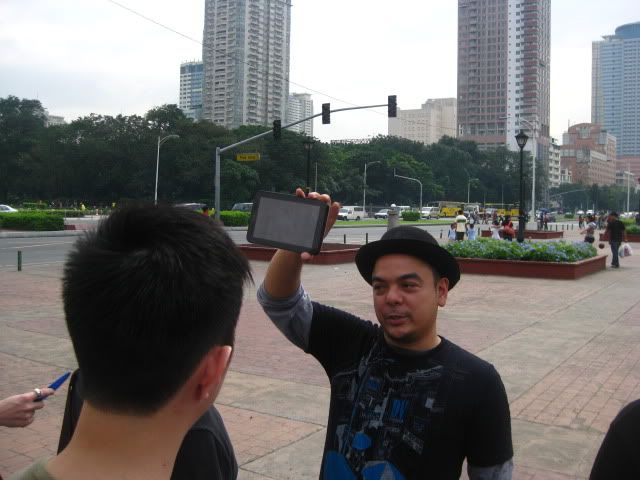 "You are standing at where the Quirino grandstand originally was."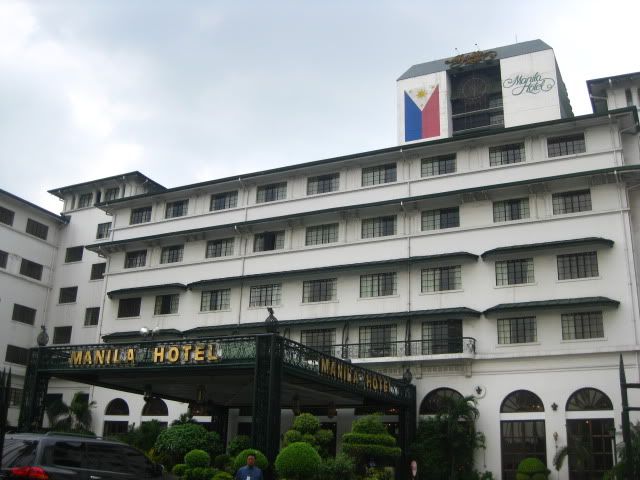 Manila hotel
We ended our tour at the Manila Hotel, where we had buffet brunch. It was my first time to enter the historical building and it was far more impressive inside than out.
While resting, I had my chance to really play with the Samsung Galaxy Tab. I had it the most while we were walking, but there's only so much you can do without worrying about getting hit by a bus or another pedestrian. I read the newspaper, I checked my email and oh my lord, I read e-books. That was one of the biggest draws for me. The screen made the e-books as big as an actual pocketbook, so my eyes weren't strained. It makes digital reading a viable option to printed books.
The Tab isn't as big as it's competitor. It's about 40% less in size, it isn't bulky and I can easily handle it with one hand. The camera's picture quality is quite excellent and the lens has a rather wide range.
Too bad I wasn't able to get some of the pictures I took off the camera :(
Pictures arrived late, thanks to some delay with the 3GS provider my Tab was using.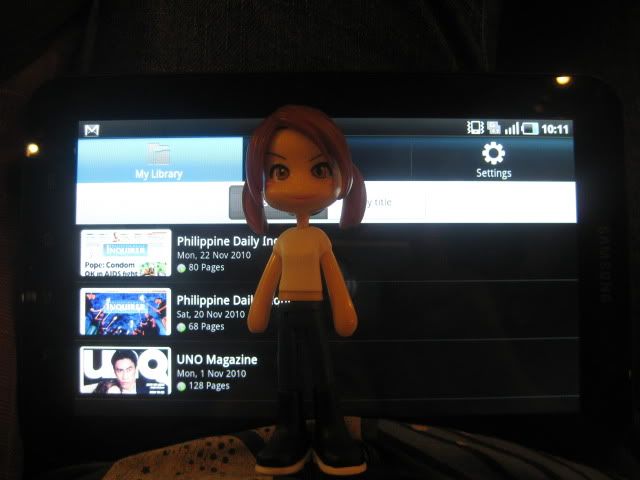 Galaxy Tab meets Pinky:St.
Fritz showed us how Swype works, and we did a quick test on how it would look if someone called you on the Tab. Calls are automatically on speaker, as it would probably look really silly if you put it against your ear like a regular cellphone, so a headset is a must.
I'm not so sure about the battery life, as I didn't know how much was the power when the Tab was handed to me. However, the Tab survived the four hour tour*, with us taking photos, browsing, taking videos etc. Not bad, I should say.
While it's a bit on the big side as a replacement phone, it scores high points from me for being able to do the things I want a tablet to do. It's also much cheaper than it's biggest competitor, and it's storage is expandable with a MicroSD. Do I want a Samsung Galaxy Tab? Yes, definitely! It was so hard to give it back after the event, but I had to. It's on my wishlist for Christmas this year.