My parents recently renewed their contract with
Smart Bro
and received a Nokia 2730 classic for free. It looks like a younger sibling of the Nokia 6730 classic that I had the chance of using before, if somewhat lighter and a bit more flimsy.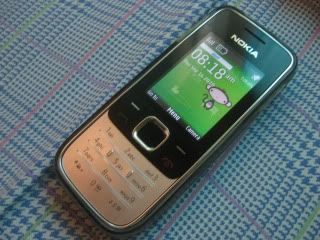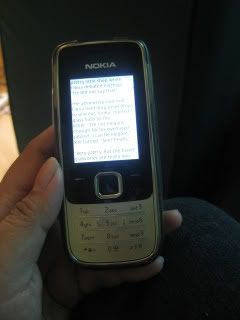 The Nokia 2730
I'm not going into a full review because one, I don't really do that and two, you can find more in depth reviews online. I'll just list the things that I like with the phone and what I can do with it.
1. Camera - a lot of the reviews I've read complain about the quality of the camera. I'd be inclined to agree, but then again, my previous (and still working) phone was a Sony Ericsson P800. While it was remarkable when it was first released, it's pretty much a dinosaur now compared to many phones that have a higher resolution camera. I briefly had a Nokia N92 but my sister now uses it, but I like the camera there. But compared to my long time phone, a 2 MP phone camera is something I am not complaining about. Besides, if I wanted a better picture, I'd use my camera.
2. Ebooks - With the P800, I could only read text files with the built-in viewer, while the N92 had the more handy MobiPocket. I was lucky enough to find out that the 2730 runs Java files, and luckier still to find a stash of ebooks converted to run as .jar files. The choice of books are quite limited though, but since I don't plan on using the phone as my main ebook reader, it still passes muster. The files I found are also customizable (font and background color change) and I can bookmark the place I last read. Not bad at all.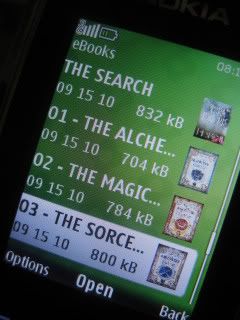 eBooks
3. Music player - The phone comes with a 1 GB SD card, which is more than enough for me. I've added the songs that I'm listening to now. Sound quality is decent too. I'm glad that the earphone jack is the standard 3.5 mm that many mobile phones now sport, which allows me to use other headsets aside from the one provided by Nokia. The radio is also a plus, but not so much since I barely listen to it nowadays.
4. Applications - The calendar, notes and to-do list are all convenient and welcome applications. Both the calendar and to-do list allow you to set an alarm for the notes you create. The note itself doesn't have that option, but that shouldn't be a problem. I also love the calculator, but then again, that should be a standard app. I was also able to send a note from the P800 to the 2730, so that's another plus.
5. Quick Access - Like with other Nokia handsets, the buttons can be customized. I set mine as "Go To" for the left for my most commonly accessed programs, and the camera for the right. IThe navigation buttons are programmed too: Up for calendar, right for calculator, down for contacts and right for new message.
With the love comes the hate. Well, that's probably too strong a word but here are some of the things that could use some improvement.
Keypad - I've used my P800's touchscreen exclusively for a while now, and I find it easy to type with the onscreen Qwerty keyboard. The 2730's keypad is rather stiff, coupled with my difficulty in typing with just the thumb makes it a bit more difficult to enter data.
Bluetooth - I tried connecting the phone to my MacBook so I can browse it for the files, but I keep getting an error that it can't connect. Previously, I had sent a file from my P800 to the 2730, so I wonder if it's a phone issue or a laptop issue. Thankfully, the memory card is easily accessible from the side, so I use a card reader to get the files. Edit: It seems that it won't work with the laptop's Bluetooth manager. I have to install the Ovi suite or something.
3G - The Nokia 2730 is the one of the cheapest phones in the market that has 3G access. However, the performance is still highly dependent on the network provider. I tried using it over the weekend and so far, I had no trouble accessing Facebook, but other sites took a long time to load (to the point that one won't even load at all, much less allow me to log in).
Alarm - A feature in the P800 that I really love is that the phone allows you to set three different times for alarm, and you can even set them the days when they'll sound. Most Nokia phones, this one not excluded, will allow you to set only one time for an alarm (but it does have a repeat function). With the Symbian OS you can download third party apps, but I'm not so sure with this phone.
The phone also doesn't support wi-fi, but I guess that's something I can live without. If I wanted to browse the Internet and not just update my Facebook status, I'd go use a laptop.
Overall, the Nokia 2730 classic is a great buy for people who just need the basics for a phone. Call and text are standard, and you can also access your email with the phone. It's a nifty entertaiment device, especially if you just need it for a temporary distraction (like when waiting in line). It is also a good organizer on the go. The construction of the keypad may not be for everyone (as mentioned, it's rather stiff and sometimes I feel like it can break at any time), but you'll get used to it after a while. As of last check, the price ranges from P2,500 to P4,000.