I'm quite ashamed to say that I've never eaten at
Joseph & Jaemark's Family Grill
. For a restaurant that has a very long history, and for someone like me who loves to eat, that's quite unusual. So when I had the chance to try their food last December 2, I didn't hesitate.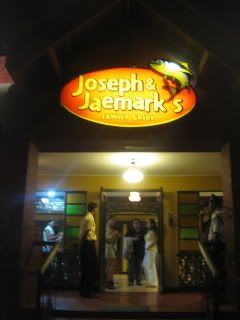 Joseph & Jaemark's has been around for 17 years, starting out as a small hole-in-the-wall place in Cuneta Astrodome in Pasay. Over the years its moved locations around the metro, and it's current home is at Sgt. Esguerra St. in Quezon City. Moving around hasn't stopped its patrons from coming in and ordering their favorites.
While this new location is open for business, Joseph & Jaemark's hasn't had a formal and grand opening just yet. It's easily accessible from Timog, and has a friendly, homey atmosphere that's perfect for family get-togethers. As the night wears on, the place is transformed into a hangout where the crowd can enjoy good music, good food and maybe a beer or two at the al fresco space behind the dining area. Function rooms are also in the process of being built.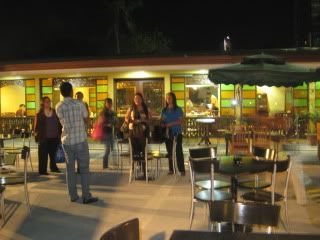 Dinner started off with a plate of Catfish Salad. Catfish, or hito, is commonly cooked on a grill and hardly even associated with salad. This dish, however, was a very pleasant surprise. Bits of catfish friend to a crunchy mass and placed atop a mix of burong mangga made for a very delicious appetizer. The tastes clash in a pleasant way and leaves you wanting more.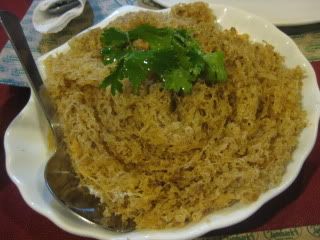 Catfish Salad, P200
Most stuffed vegetables are filled with pork or beef. Joseph & Jaemark's uses tinapa as their stuffing, and it bursts with a wonderful smokey flavor when you bite it.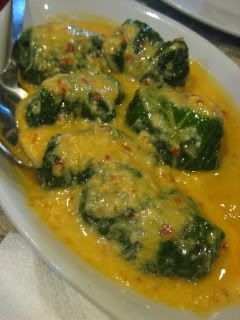 Stuffed Pechay, P160
If there's one thing I noticed with many grilled foods, is that it tends to become dry the more it's cooked. This is especially true for fish. Joseph & Jaemarks's Grilled Tuna Belly is not. When it's served, it actually looks like a slab of grilled beef or pork and it has a sweet coating that is similar to the ones used in those meats. However, you will immediately notice that it is not beef or pork. It's really good.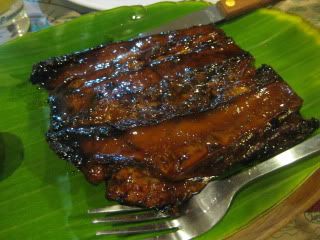 Grilled Tuna Belly, P270 (small)
Most coco prawn recipes have the prawns cooked in coco sauce. This Coco Prawns are not only cooked that way, but it also includes bits of coconut meat. It adds flavor and texture to an already rich dish. It's also served in a carved out coconut.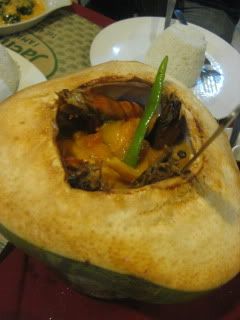 Coco Prawns, P450
I grew up eating genuine Bicol Express, so I wasn't really expecting much with this. It's not as spicy as the ones my grandmother used to cook, which is a good thing for me, personally. It has a slightly sweet taste that balances it all out. It goes great with the meat dishes in the menu as it's got a lot of vegetables, although it feels really more like pakbet rather than Bicol Express for me.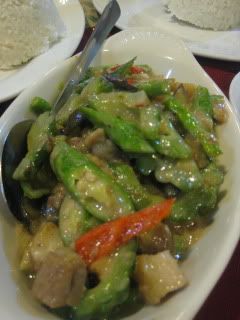 Bicol Express
Somehow, this dish would've paled in comparison to the previous dishes, as it was meat and it wasn't that big. But for it's very unassuming look, the barbecued pork spare ribs is a winner in my book. The meat is very tender and easily breaks with just a gentle pressure from your silverware. It's sauce is sweet and penetrates deep into the meat. The thin layer of fat is delicious when eaten with some of the meat. Highly recommended.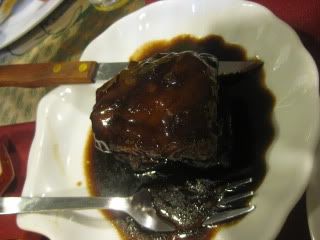 BBQ Pork Spare Ribs
This was certainly the star of the night. Most grill places offer crispy pata as their main dish, but Joseph & Jaemark's has Crispy Buntot, and it tastes just as good, if not better. You can eat to your heart's content and won't worry about the cholesterol and fat. There's two sauces, butter sauce and spicy toyo. Both complement the crispy buntot very well, but you can also eat it without the sauces.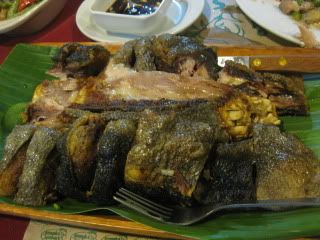 Crispy Buntot, P315 (medium), P415 (large)
Here's something that isn't on the menu just yet, so we felt pretty lucky to have tried this new recipe. It's chicken balls, but it's quite unlike the regular ones you'd eat, thanks to an ingredient one might not probably even think of adding to ground meat: ginger.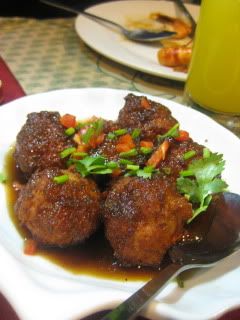 Chicken balls
This dessert is not on the menu either, but the lychee gulaman is delicious and a refreshing end to a very heavy and yummy dinner.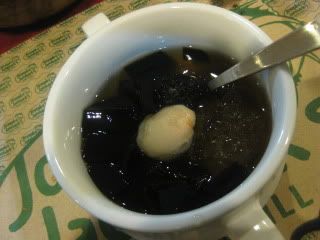 Everything I ate was a winner. If I had space in my stomach I'd go for another round of serving, but sadly, I didn't. Still, it was a very delicious dinner. My favorites were the Crispy Buntot, Grilled Tuna and BBQ Pork Spareribs.
Joseph & Jaemark's Family Grill
#5 Sgt. Esguerra, Diliman, Quezon City
410-TUNA (8862)